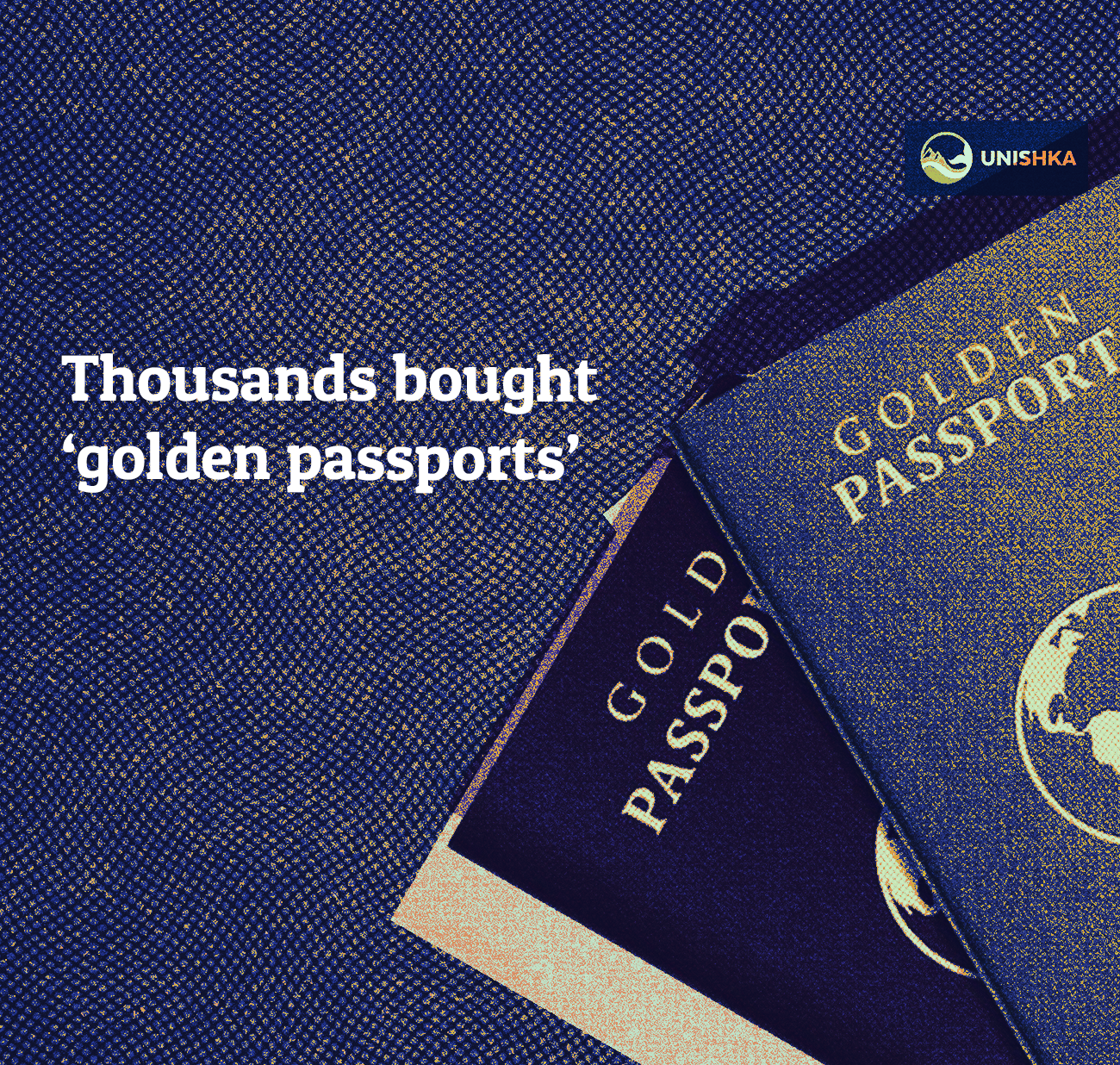 Thousands bought 'golden passports'
11 Oct 2023 ( The Guardian )
The Caribbean state of Dominica has sold citizenship to thousands of individuals including a former Afghan spymaster, a Turkish millionaire convicted of fraud and a former Libyan colonel under Muammar Gaddafi, the first detailed examination of the country's controversial "golden passports" scheme has found.
The findings are from Dominica: Passports of the Caribbean, an investigation by the Guardian and 14 other international news organisations, in partnership with the Organized Crime and Corruption Reporting Project (OCCRP).
Dominica's golden passports scheme – one of the world's biggest – has according to official declarations raised more than $1bn (£822m) through its citizenship by investment scheme since 2009.
Its passports are in demand around the world, and a series of international agreements ensure its citizens travel visa-free to 140 countries, including most EU member states.
However, until now, the names of the individuals who have paid the price tag of at least $100,000 (£82,000) a head to acquire Dominican nationality – in many cases without setting foot on the island – have been difficult to obtain.
By working with the Government Accountability Project, a US-based advocacy group that scoured archives and libraries across the Caribbean for copies of official public documents, and by reviewing leaked material, the project was able to compile lists of names of thousands of people who became citizens.
The first ever tally of names published in Dominica's official government gazette shows an island state with a population of just over 70,000 has published the names of 7,700 individuals since 2007 – although our research suggests there may be thousands more. Some were naturalised through immigration or marriage, but the vast majority bought their citizenship.
Any government has the legal right to set its own standards on who becomes a citizen. And for many people living under oppressive regimes, a second nationality can provide security. Names that appeared to be of Iranian, Chinese and Russian heritage were among the largest groups of people who became citizens.
For individuals from these countries, a Dominica passport can also mean less red tape when crossing borders, doing business or opening a bank account abroad.
Some of the findings raise questions about the transparency and governance of the scheme, and some are potentially embarrassing for Dominica.
One buyer had publicly been accused of war crimes before obtaining citizenship, while another had been a colonel and senior security official under Muammar Gaddafi. Citizenship by investment applicants are barred if they have a criminal record but, in one example, a buyer appears to have been jailed for fraud before he secured citizenship. Others have run into trouble since acquiring Dominican citizenship, including one named on Interpol's wanted red list.
Dominica has become heavily reliant on selling citizenship to fund its public services, with this source of income accounting for about half of all government revenues.
Concerns about the scheme have led to consequences for natural-born Dominicans. The UK government in July stopped visa-free travel from Dominica and four other countries.
Dominica's government did not respond to detailed requests for comment. However, the prime minister, Roosevelt Skerrit, who has overseen the expansion in citizenship sales since taking office in 2004, defended the programme during press conferences on 18 September and 3 October, apparently in response to this investigation.
He said: "We have professed to have a robust system that we go through in different layers of due diligence, and if somebody were to become a citizen of today and tomorrow morning the person goes and does something and finds himself in problem with the law, you can't blame the programme for that."
Skerrit compared the Dominica scheme to the US's green card, which gives permanent residency rights. He said nobody blames the US when people commit crimes after it grants residency.
He also made a series of outlandish and false claims that reporters on the investigation had been paid by opposition politicians in Dominica to try to "destroy" the scheme, and likened reporters to arsonists and "terrorists".
Dominica's national archives are housed in a modern concrete structure, set among the pastel-painted colonial buildings of the small town of Roseau, the island's capital. Here, string-bound issues of the weekly Dominica Official Gazette can be found.
The gazette is the only official public source of information about the thousands of individuals who have become Dominican citizens. Published only on paper, with no official digital copies, the information the gazettes contain is not easily accessible.
Last year, the Government Accountability Project took action to improve transparency. It viewed dozens of gazettes from libraries, private collections and from the University of the West Indies in Jamaica, and drew up a list of every naturalised citizen published in gazettes from 2007 to 2022. No names have been published since March 2019.
Other names were found in documents leaked from a hotel developer licensed to accept passport buyers as investors.
Among the names brought to light is that of Asadullah Khalid, who served as governor of two provinces of Afghanistan, as the country's spy chief, and latterly as defence minister. He held these senior positions during the years of turmoil after the invasion by the US and allies in 2001, until the Taliban took over in 2021.
Khalid has been accused by UK and Canadian officials of responsibility for human rights abuses, including allegations, widely reported in 2012, that there was a torture chamber under his guest house. He obtained citizenship in 2017, at a time when these allegations were already public.
The allegations against Khalid have never been tested in court. He has previously said there was no evidence for allegations that were "just propaganda". Khalid did not respond to requests for comment.
Another investor was Sasi Milud Sasi Grada, a former colonel under the Gaddafi regime in Libya.
Grada obtained citizenship in 2015, having fled Libya after the civil war that overthrew Gaddafi, before returning. In a telephone interview, Grada said although he knew Gaddafi personally from the 1960s onwards, when they trained in the military together, he did not discuss politics with Gaddafi. He said he left the military in 1989 at the rank of colonel, before running government security for facilities such as banks, universities and oilfields until the civil war.
Under Dominican regulations, citizenship by investment applicants are barred if they have a criminal record. However, one individual seems to have been able to purchase citizenship despite appearing to have a conviction for fraud.
The Turkish businessman and former government minister Cavit Çağlar bought citizenship in 2011, seven years after he was given a prison sentence and a fine for fraud relating to Interbank, a bank he owned until it was taken over by Turkish regulators in 1999. In 2010 his sentence was suspended, and reduced to one year and nine months in prison, as well as a fine, the Turkish newspaper Hürriyet reported.
In a 2019 interview, Çağlar said he served nine and a half months in prison, and that he was not a criminal. A representative of Çağlar's newspaper company, Olay, said he did not wish to comment when approached by the Guardian and OCCRP.
Others appear to have run into trouble after obtaining their passports.
One investor who has faced allegations of wrongdoing since obtaining citizenship is Mehdi Ebrahimi Eshratabadi, an Iranian wanted in Iran for alleged fraud, according to an Interpol red notice.
Eshratabadi, who also goes by the name Tony Newman, obtained Dominican citizenship in 2015. His lawyer described Iran's addition of him to Interpol's wanted list in February 2020 as an "abuse of red notice system by the Iranian" government. The lawyer said he was vigorously denying allegations by the Iranian regime and is defending himself in criminal proceedings in Iran.
Oday Nadir Abdulkareem al-Quraishi, an Iraqi, obtained a Dominican passport in 2012, before moving to Dubai, according to previously leaked property records. In 2016, media reports alleged that, while working as an engineer at an Iraqi-state owned oil company, he had accepted bribes between 2009 and 2011 to steer lucrative contracts to clients of Unaoil, an oil services company. The following year Iraq issued a warrant for his arrest in connection with the allegations.
He denied any wrongdoing, and said he left Iraq because of "security and ethnic problems" and "long before any of this start[ed]". By email, he said he would settle the matter "once the security situation and the time is appropriate".
Countries around the world offer citizenship by investment
Kyle Davies, a leading player in cryptocurrencies, appears to have obtained a Dominican passport in 2009. He co-founded the Three Arrows Capital hedge fund in 2012. However, the fund collapsed in 2022, one of a string of financial failures caused by the crash in cryptocurrencies, leaving investors claiming losses worth billions of dollars.
Teneo, the liquidators of the fund, said in a statement last month that Singapore had issued a "committal order" for four months in prison for Davies for failing to cooperate with the liquidation process, "but his whereabouts remain unknown at this point in time".
Contacted by the Guardian, Davies's lawyers criticised the liquidators. They did not address questions about his citizenship.
Golden passport and residency schemes have multiplied in recent years. Dominica's scheme is one of the cheapest, requiring a direct donation of $100,000 to the government or an investment of $200,000 in a government-approved real estate project.
A former French and then British colony, located in the eastern Caribbean, Dominica gained independence in 1978. Since 1993, it has sold citizenship. Sales began to really take off after 2015, when a treaty signed with the EU guaranteed its citizens visa-free travel in the Schengen area for up to 90 days a year.
Anti-corruption campaigners and politicians have long expressed concerns about golden passport regimes.
Eka Rostomashvili, the campaigns lead at Transparency International, an anti-corruption watchdog, said: "It's no secret that visa-free travel to the EU and the UK has been one of the main selling points of the Caribbean citizenship by investment programmes. Both the EU and UK have had their fair share of troubles with such schemes, leading several EU countries and the UK to completely shut down their [own] programmes."
The UK scrapped its golden visa scheme last year, while Cyprus stopped selling citizenship in 2020.
However, golden passports play a central role in Dominica's economy. The country's leaders say the money is needed to replace its once dominant banana exports, damaged by changes in trade rules.
Revenues – estimated at more than $1bn since 2009 – have become the main source of income for the Dominican government, helping to fund schools, healthcare and other public services.
Defending the scheme at last month's press conference, Skerrit said it "underwrites a significant part of economic and social development" on the island, and "has been used to build thousands of homes, improve healthcare, help with national security, help you diversify the economy and grow the economy in agriculture and tourism, with the building of hotels".
SEE THE ORIGINAL ARTICLE